Local Couple Truckin' Against Breast Cancer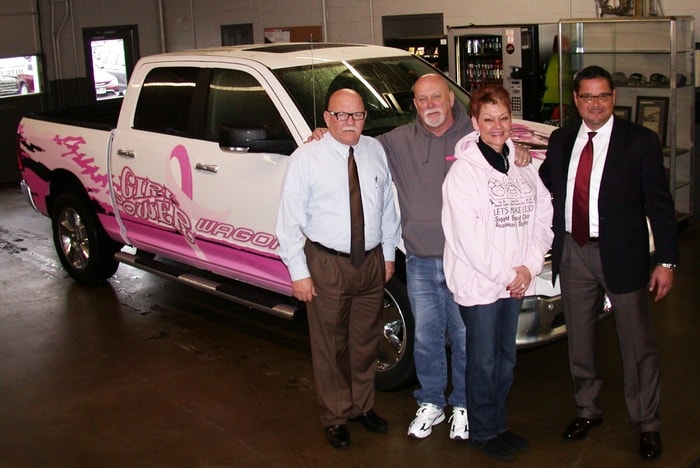 Lebanon Chrysler's Gordon Wallace (left) and David Hunt (far right) flank new car owners Tracey and Janet Covey. The Coveys spotted and purchased this Dodge Ram with pink emblems as a reminder of their connection with breast cancer victims and survivors. (Doug Graves photo) 
---
The wait for results from a breast cancer screening can be excruciating. Just ask Janet Covey of Franklin. Covey had a breast exam recently and fortunately the tests came back negative.
But the mother of one of her daughter's best friend and neighbor was not so fortunate.That little girl, Chrissy Stacey, was eight when her mother, Jerri Stacey, was diagnosed with breast cancer. Jerri died two years later. The Coveys stepped up to the plate. Knowing that the girl's father, Calvin,was an over-the-road truck driver, they offered to take care of the little girl through the week. The Coveys had a daughter the same age and both were friends any way.
"Seeing this mother pass was one of the hardest things I went through," Janet said. "Having a daughter the same age and realizing she would never see her daughter graduate or marry just broke my heart. It was a harder death than the death of my own father. "Eventually the care taking led to the adoption of Chrissy. Both girls are 33 now and are still next door neighbors. 
Tracey and Janet have five children of their own. They consider the little girl their sixth. "There's a number of reasons behind this truck," Tracey said. "She doesn't drive well in the snow and this truck is four-wheel drive and that's a load off my mind. The other reason is this truck is tied to virtually everyone we know who has been touched by breast cancer in one form or another.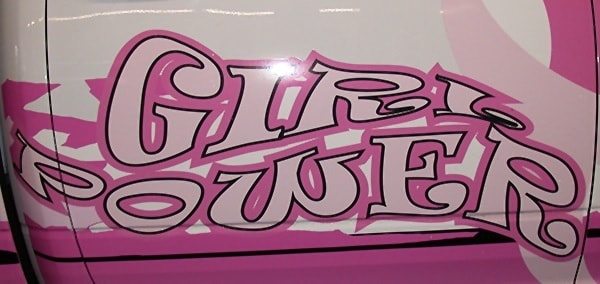 "Tracey has taken up this fight against breast cancer in a big way. He participates in breast cancer 5K walks throughout the year, spearheading his own effort in Dayton each October. His new truck purchase simply reinforces his fight against this disease.
"I work in Lebanon and passed the dealership one day and there was this white truck with pink emblems on it. I just had to have it and it was perfect timing," he said. "My wife's old car was getting a little older and I wanted to give her something newer so I don't have to worry about her. I don't her put into any situation where should would be out in the cold because it all affects her in a negative way." 
Janet has issues of her own. She suffers from fibromyalgia, a disorder most often characterized by widespread musculoskeletal pain. But she was fortunate that her breast cancer tests were negative. "I'm going to use the truck with its emblems to raise more donations for the breast cancer walk that I do and for the American Cancer Society's fight against breast cancer," Tracey said.